Nitrile Exam Gloves
Over the years, the popularity of disposable nitrile gloves have risen to become the latex-free exam glove of choice for nurses and doctors. Due to its resilience, nitrile gloves work very well in harsh, high-stress environments. Made from nitrile material, these synthetic exam gloves are known for providing excellent protection to a wide range of chemicals in addition to being an effective barrier against blood-borne pathogens. For this reason, nitrile gloves are widely used for handling toxic chemicals such as chemotherapy drugs. Most importantly, nitrile is latex-free and provides three times more puncture resistance than standard latex exam gloves. It is no surprise that nitrile exam gloves are becoming the preferred latex-free glove of choice.
| Pros | Cons |
| --- | --- |
| Excellent Barrier Protection | Higher Price |
| Chemical Resistance | |
| Latex-free | |
Protection Quality of Nitrile Gloves
Nitrile exam gloves are known for providing maximum protection with the ability to provide chemical protection. Compared to synthetic vinyl material, nitrile gloves are less likely to tear with a higher resistance of being punctured; however, this does not mean that nitrile gloves are impervious. You try hard enough, you can tear any exam glove whether it's made out of latex or nitrile. But when used properly, you will find nitrile exam gloves to be very durable.

The protection level of nitrile gloves depend on the technology used in manufacturing the glove. This includes the formulation of the nitrile material. In general, the thicker the glove is, the more protection the exam glove will provide the user. Thickness is measured in mils and the most popular nitrile gloves range from three to five mils in thickness. This is why not all nitrile exam gloves provide the same level of protection. In addition, even though several nitrile glove brands may have the same thickness, the formulation used may differ. The major nitrile glove manufacturers will test the permeability of hard chemicals with nitrile exam gloves including popular chemotherapy drugs. For this reason, the data of how effective a particular nitrile glove will protect the hands will differ from company to company. If you are planning on handling chemotherapy chemicals, be sure to check with the manufacturer whether the particular nitrile glove in question is recommend for such use. All manufacturers are required to conduct tests and have test data available for any chemo-protection claims made with their exam gloves.
Nitrile Glove Prices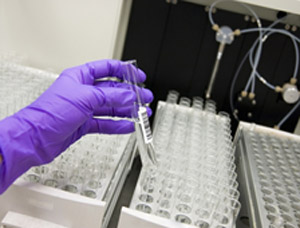 Nitrile gloves have the stigma of being very expensive for hospitals to invest in. When nitrile exam gloves were first introduced, this was definitely the case with nitrile gloves being reserved for labs and departments that required a sturdier glove. Over the years, the price of nitrile exam gloves has fallen to the point where it is cost-effective enough for some healthcare facilities to consider using house-wide. Although the price of nitrile gloves is not as cheap as vinyl, it is affordable.

The price of nitrile gloves tend to fluctuate based on numerous factors which include the basic laws of supply vs demand, cost of manufacturing, price of raw goods, world economic conditions, among others. As demand for nitrile exam gloves increased, the medical glove industry increased production levels to meet the higher demand. This eventually led to increased efficiency in the production of nitrile gloves. In any case, there are still a lot of other factors that cause the price of medical exam gloves to fluctuate. Most medical gloves are manufacturers in Asia such as Malaysia and China so macro economic conditions affect price. Other industries compete for the natural resources used in making a glove and the list goes on. In the short term, the price of nitrile exam gloves will continue to fluctuate, but we expect that the price will be more competitive over the years as technology improves and the supply of nitrile gloves increase.
Many Colors of Nitrile Exam Gloves
Nitrile exam gloves have always been colored to distinguish this medical glove differently from their latex counterpart. Since latex has always maintained their original milky white color, nitrile exam gloves were traditionally colored blue. For this reason, most glove manufacturers will have a blue nitrile glove available for hospitals. Today, you can find many different colors which include purple, green, pink, black, etc. A lot of it is purely for aesthetic purposes, but some companies have successfully built their brand surrounding the color of their glove. Kimberly Clark's purple nitrile glove is such an example.
The KC purple nitrile glove is one of the most widely recognized exam glove known for its quality. Granted Kimberly-Clark spent significant resources in building the purple glove brand, the strategy has proved to be effective. Some nurses have reported preferring this purple nitrile glove over others since the color is more soothing and appealing in comparison.
Medline's green nitrile glove is another example, but in contrast to the KC purple nitrile glove, the green exam glove is not exclusive to nitrile gloves. The color green represents Medline's Aloetouch product line of exam gloves which include latex, nitrile, and vinyl.
As the competition for nitrile exam gloves become fiercer, I'm sure we'll see more colors being introduced as ways for manufacturers to further differentiate their product. For example, black nitrile gloves have steadily gained in popularity.
Nitrile Gloves Are Made From Latex-free Synthetic Material
One of the most important characteristics of nitrile exam gloves is that it is latex-free. A lot of comparisons have been drawn between nitrile vs vinyl (another latex-free material). The reason why synthetic gloves have gained traction is because of the increased awareness of latex allergies. In truth, latex would be the ideal material for exam gloves if it wasn't for the fact that people can develop sensitivity to latex. Studies have shown that 6 percent of the general population already has latex allergies and as much as 17% of health care workers are reported to be affected. Using nitrile gloves as an alternative will help make a medical clinical environment safer for both patients and staff. For this reason, more and more hospitals are retiring the use of latex exam gloves.
Uses of Nitrile Exam Gloves in Healthcare
If price wasn't a concern, nitrile gloves are preferred over vinyl glove as the latex alternative. Some hospitals have been able to switch to a 100% nitrile glove house-wide policy. For other healthcare facilities, nitrile exam gloves are used in a combination of other medical glove materials. In such cases, these healthcare facilities have a limited supply of nitrile gloves which are reserved for functional purposes where extra protection is required. Nevertheless, it is common to find nitrile gloves in critical and noncritical care units, emergency rooms, labor and delivery wards, laboratories, phlebotomy, pharmacy, oncology departments, and environmental services.
Nitrile Gloves
Articles & Resources
Review of Purple Nitrile Glove by an RN - 7/9/2010
Using Nitrile Gloves House-wide! - 4/29/2007